As per the current situation of lockdown, most of the offices are running remotely from home. But while creating the perfect home office space we have to consider few things.
While creating a perfect office space at home we required space which has a proper sitting/ workstation area, organized storage area, ample of natural light, functional, inspiring, and a clutter free environment where creativity thrives.
Let's discuss on some points to consider.
Natural Light: natural light in office spaces improves work satisfaction and productivity. As natural light also helps regulate the body's natural sleep-wake schedules and is directly going to impact you, as better sleep also leads to greater employee productivity and satisfaction. Moreover, because natural light reduces the need for artificial lighting during daytime hours, you can save on energy as well.
Conclusion: We have to choose our working space near to a window or any place which promotes natural light.
Furniture:You can say the furniture you choose most suitable, if you are feeling comfortable and more efficient in work. A well designed office chair, the right desk light for the task and home office furniture that helps to keep things organized, the right home office furniture will make the difference in your outlook on working and your satisfaction towards your home office. What you have to consider while choosing your furniture is your space size (whether the workstation or furniture you choose will fit at the desired place or not), budget and how long you use it throughout a day.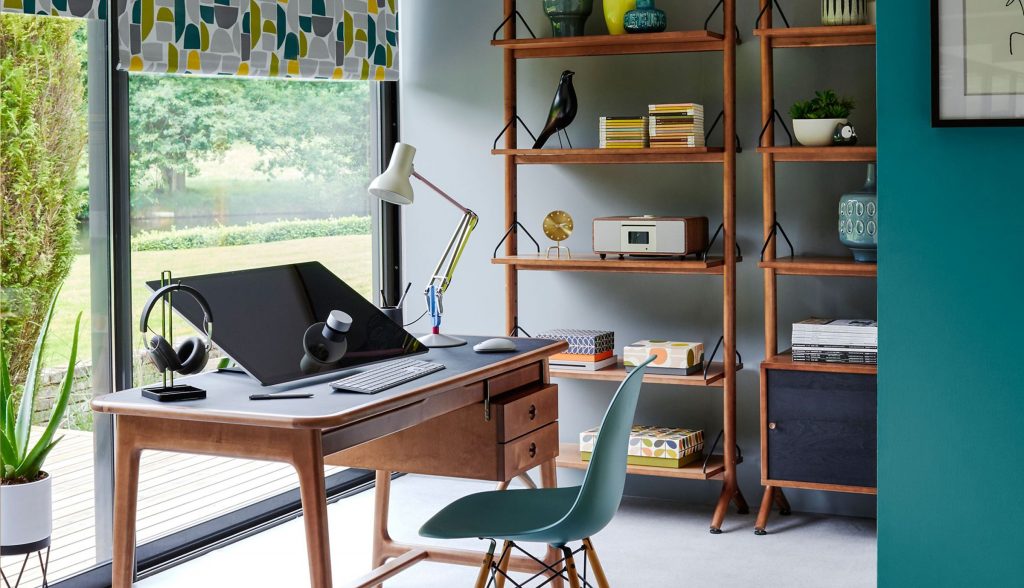 Conclusion: We have to choose little bulky furniture with light in shade that matches your work culture.
Color: Your working style should reflect in your color choice, whether it relates to wall color, ceiling color, lighting or furniture.It depends onhow much time you'll be going to spend in your home office, and the type of work you'll be doing. If you'll be spending several hours a day in your office, go for a soothing wallpaper pattern or some vibrant shade of color.Understand your job requirement, Mostly job requires focus, go for neutral shadefor clarity and sharpness.
Conclusion: Choose color as per your working style and requirement.
Accessories:Desk accessories help to keep work place tidy and organized. Your office desk should look clean, impressive, and should give you positive vibes and encourage you to get more efficiency.Your working space should showcase comfort for you to work. Choose some trendy pen holders, folders or binders, notepads and sticky notes, and a waste can.You can use some work related stickers, printout with some inspiration quotes on the walls.
Conclusion: Important to organize your work area.
Green Area: Plants in a workspace help to reduce stress, increase productivity, boost creativity, and makes office area attractive as well. We can also use some small potted plant as per the space we have. Plant provides us fresh air to breathe, which make us more efficient and productive in work.
Conclusion: We must use some green plants in our workplace to enhance ourselves.
Vivin Chand (Interior Designer)
Founder- VIVIN CHAND DESIGN
Contact : 8447787014